Keri Wood Floors Offers a Dustless Hardwood Floor Solution in Wayne, NJ
When looking to improve the quality of your home in Wayne, New Jersey, finding a dustless hardwood floor solution in Wayne, NJ is a must.
If you live in an older home, chances are you already have wood floors that may be hidden under carpet or could be in rough shape from decades of wear and tear. You may be considering a complete replacement of your wood floors in an attempt to increase the value of you home or to meet your own aesthetic desires. The good news is, it is possible to repair or refinish those older floors and bring them back to life. Even better, by providing dustless hardwood floor solutions to customers in Wayne NJ, Keri Wood Floors will have your old and tired floors looking new in no time – without the mess!
What is Dustless Refinishing?
It is a cleaner hardwood floor refinishing process.  If you have ever been a part of a hardwood floor refinishing project, you know that the dust can stick around long after the job has been completed. Refinishing your hardwood floors requires the actual removal of a layer of wood to allow for repair of the damaged areas and stains that have gathered over the years. Because it must be removed, the top layer is sanded away.
Traditionally, sanding is a very dirty process because the dust and debris is stirred up and sent into the air, landing on windowsills, mantle pieces, and any other hard surfaces that may be exposed in the room. Even when you have draped the walls in plastic, it is difficult to keep everything clean.
However, thanks to state of the art technology, Keri Wood Floors can offer a cleaner hardwood floor refinishing process for Wayne residents. You will be able to breathe easier without concern of dust from the sanding of your old wood floors because we utilize powerful vacuums that are attached to and fully connected to our sanders to trap all dust particles. While the floors are sanded, the vacuum draws in the dust and sends it away through tubing. Dust, wax, and finishing agents are removed from the house without being sent into the air to land again in your home, or find its way into the air you breathe, which should keep you and your family happy and healthy.
Call Keri Wood Floors for Dustless Refinishing in Your Home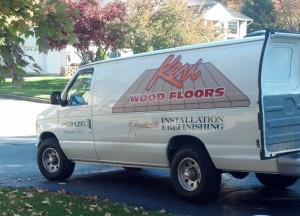 Refinishing the hardwood floors is a difficult job, and should be handled by professionals you can trust. In order to ensure the best results, call Keri Wood Floors for a free estimate.  We will do a complete walk through of your home and answer all your questions to determine the right steps to take to make sure the work is done right.  We service Wayne and other areas in northern New Jersey.
Whether your wood floors have been exposed to water damage, large scratches and dents, or just years of foot traffic, we will work to bring your floor back to life. Because we offer dustless refinishing for your floors at no additional cost, you will be able to settle back into a comfortable living situation. Call Keri Wood Floors at 973-838-1295 or Email us today!