Hardwood vs. Laminate Flooring – It's No Contest
Hardwood vs laminate flooring ? Hardwood flooring is more popular today than ever before. For both its classical style and durability, hardwood floors have stood the test of time, quite literally. Still, some will give careful consideration to installing a laminate product in their homes as opposed to hardwood floors.
One major factor for consideration is the higher upfront cost of hardwood flooring vs laminate flooring. Additionally, some may argue that the look of a laminate product is just as nice, or at least "close enough" to the real thing. However, as we explore the issue it, it really is no contest: hardwood flooring is superior.
The Look and Feel Of Real Hardwood vs Laminate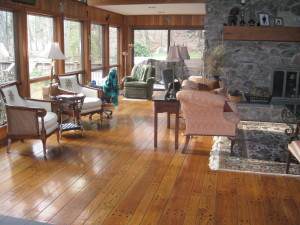 People have long enjoyed the classic and timeless look of hardwood flooring. It has been the obvious choice of home builders for decades, and still appeals to a mass market of New Jersey homeowners, renters and buyers.
On the other hand, laminate flooring?
On the other hand,  laminate flooring manufacturers will argue that a vinyl product can be made to look exactly the same as a true hardwood floor. I invite you to look closely at both products side by side and see if you can tell the difference. Guaranteed, the laminate will be obvious. This is because real hardwoods are unique and strong, not a picture printed on a sheet of material.
Real hardwood floors have a feel that vinyl simply can't match. Each type have their own character and every piece is unique. They are also generally thick and sturdy. Laminate products are mass-produced and each board looks exactly the same, while often feeling quite flimsy. They look like fake wood – which is exactly what they are.
Hardwood vs Laminate | Price Difference?
Someone shopping for a hardwood vs laminate floor to install in his or her home in Kinnelon may find an inexpensive vinyl product appealing. It is true that installing a laminate product will be cheaper in the short-term. Nevertheless, hardwood floors are the right choice for the long term. One reason is that hardwood floors increase the value of a home. You should always consider the resale value of your home and more and more homebuyers are looking for real wood flooring.
Repairs | Hardwood vs. Laminate
Accidents happen, and there are many things that can damage your floor. However, if you have a hardwood floor, you will probably have an easier time repairing it should it become damaged. Sanding them down and resealing or staining them to match perfectly with the surrounding area can refinish wood floors.
You will Have To Replace Laminate Flooring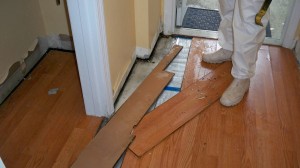 In all likelihood, you will have to completely replace a laminate floor that suffers a large dent or major scratch. Even if you can replace part of a laminate floor, it will be difficult to match it to your original style due to the way laminate changes over time, often lightening in color from the sun.
Once you have found that laminate flooring just can't compare to hardwood flooring, call or Email the experts at Keri Wood Flooring at 973-838-1295. Keri wood floors has served Kinnelon for 25 years and will find the perfect flooring for you that will stand the test of time.
LOCAL AREAS AND PLACES WE SERVE:
Bloomingdale, Butler, Kinnelon, Montville, Pequannock, Pompton Lakes, Pompton Plains, Riverdale, Wayne and West Milford. Including all of Morris, Passaic, Bergen and Essex County's