Northern New Jersey Hardwood Floor Installation
Installing new hardwood floors is a cost-effective way of increasing your home's value while giving you the opportunity to truly make your house a 'home' in a way that reflects your unique taste. At Keri Wood Floors we install a full range of hardwood solutions:
Hardwood Flooring Options
Site-finished Hardwood
A durable, flatter hardwood floor with no grooves is the promise of a site-finished floor.  Create a custom floor solution that will be site-sanded utilizing our dustless sanding and refinishing system then stained if desired and top coated with the best polyurethanes in the business. Site-finished hardwood flooring requires the installation of unfinished hardwood which is available in a wide variety of sizes, species. With an endless array colors and finishes to choose from.
We can create custom colors not available with pre-finished flooring – this allows us to custom stain match an existing wood floor or existing moldings and adjoining woodwork so your home has a consistent look and feel.
Prefinished Hardwood
Factory-finished and ready to be installed out-of-the-box, pre-finished hardwood floors provide a cost-effective and relatively fast installation option for many homeowners.
Engineered Hardwood
Ideal for installation over radiant heat sources, concrete slabs and in environments prone to moisture-level fluctuations, engineered hardwood floors have become an increasingly popular choice for both homeowners and builders alike.   See our section on Engineered Hardwood Flooring for helpful information about this hardwood choice.
Keri Wood Floors | Hardwood Flooring Installation You Can Trust.
Our professional installers have the experience to deliver a dependable finished product we can both be proud of.  Installation methods include the following:
Blind Nailed Tongue and Groove
Glued-down
Top Nailed
Every hardwood flooring choice has its pros and cons depending on your home environment, budget, aesthetic desires and other factors. At Keri Wood Floors we have the knowledge and experience give you the options required to help you make confident, well-informed decisions about your hardwood floor installation project.
Contact us today to see how we can provide you with a one-stop-shop for all of your custom hardwood installation needs.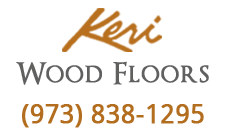 Local areas and places we serve include:
Bloomingdale, Butler, Kinnelon, Montville, Pequannock, Pompton Lakes, Pompton Plains, Riverdale, Wayne and West Milford. Including all of Morris, Passaic, Bergen and Essex County's in New Jersey