Engineered Hardwood Flooring
Installation of engineered hardwood floors has become an increasingly popular choice for both homeowners and builders alike, it's worthwhile to review some basic information if you are hoping to purchase or refinish engineered hardwood floors now, or in the future.
Engineered flooring runs the gamut from the low end starting around $2.00 per square foot to the high end of $15.00 per square foot. To judge quality, check ware layer the thickness, the number of layers in the substrate, and the number of finish coats. Typically, the more layers, the better.
Listed below are descriptions of the advantages of adding layers to the construction of engineered boards:
3-ply Construction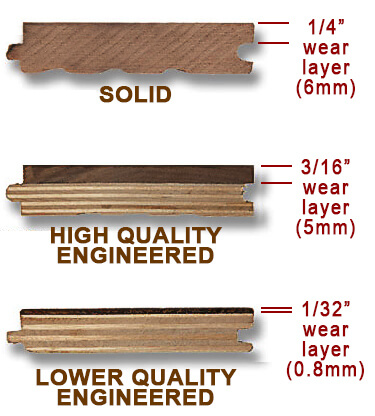 1 to 2-mm wear layer.
Most come with a 10- to 15-year warranty.
Options are usually limited to common species, such as oak, maple, and ash.
Just a few stain colors are available.
5-ply Construction
2- to 3-mm wear layer.
Most come with a 15- to 25-year warranty.
More species are available, such as cherry, beech, and some exotics.
More stain color choices.
Some surface effects, such as distressing and hand scrapping are available.
7-ply Construction or greater
3+-mm wear layer, which can be sanded two or more times.
Most come with a 25+year warranty.
About 5/8- to 3⁄4-inch thick.
Has the widest selection of species available including reclaimed options.
More surface treatments are also available, such as hand-scraped and wire-brushed.
What Engineered Hardwood is NOT
Engineered hardwood should not to be confused with laminate flooring. Laminate is simply particle board, (not solid wood) with a photograph of wood (or some other man-made product) serving as the top layer therefore cannot be sanded or refinished.
Engineered hardwood is not the same as solid hardwood. This, in and of itself, is neither a good nor bad thing.
What Engineered Hardwood IS
Engineered hardwood has a real wood top/wear layer, glued to a multi-layer core typically made of plywood.
The real wood wear layer is available in almost any hardwood species and can range in thickness from 0.6mm to over 4.5mm. (Thickness and hardness is not the same thing within this context.)
The real wood wear layer can be relatively soft as is fir or relatively hard as is Brazilian cherry or red oak.
Most engineered hardwood products are coated with a finish that is very tough, however despite this toughness, these finishes do scratch and dent and eventually some form of refinishing may be required.
Engineered hardwood often has greater moisture stability than solid hardwood because its multiple-ply core thwarts twisting and swelling in moist conditions.
The moisture stability of engineered hardwood makes it an ideal choice for installation over radiant heat sources or in environments where moisture fluctuations are a concern
Engineered hardwood is installed typically utilizing one of the following processes – nail down or glue down. Give us a call to discuss which option would work best in your home.
Contact Keri Wood Floors Today!
Local areas and places we serve include:
Bloomingdale, Butler, Kinnelon, Montville, Pequannock, Pompton Lakes, Pompton Plains, Riverdale, Wayne and West Milford. Including all of Morris, Passaic, Bergen and Essex County's in New Jersey